E1 Page Designer X
Speed up and streamline E1 Pages development
E1 Pages are taking over the World with many sites switching to E1 Pages entirely for all users. The standard process of editing and maintaining these pages is torturously medieval, hence this solution: it will finally bring the E1 Pages design into the 21st century.
Current downloadable free version: 1.0.4 / Commercial version - 1.1.17
Product Brief
More Details
System Requirements
Licensing
Streamlined E1 Pages design with this solution would save many weeks of time in any implementation.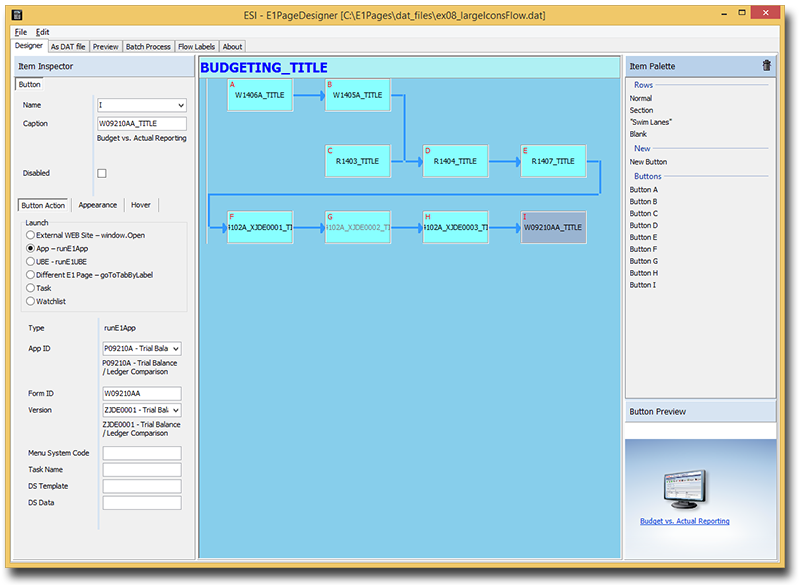 V.1.0.x of this solution (
E1 Page Designer
) is a
free full
version of the software.
The commercial version (
E1 Page Designer X
) offers the following additional features:
1) Portlets support
2) Support for different button sizes on the same page
3) An Import function for converting existing .HTML pages into .DAT files
4) "Beautified" preview, with HTML code adjusted to better match how it would look once uploaded into JDE (which is somewhat different from the raw generated pages):
5) Additional workflow elements, extending the standard limited set (this allows additional turns and directions)
6) Custom image for page background, with the usual stretch/scale/centre/tile options
7) Custom logo corner image, with some positioning control
8) Additional flexibility with the font sizes for the page title
9) Improved interface, with additional right-click pop-up menus, additional actions and better handling of deleted page elements. The Guide is updated to reflect the changes
10) Support for new versions of Generator is added to keep up with JDE changes
n) ... more features are being implemented ...
E1 Page Designer implements a graphical WYSIWYG-like approach for editing standard .DAT files.
Built-in page preview capability makes E1 Pages development much more efficient. Incidentally, the same technology also makes it very easy to document the E1 Page Designer workflow directly in this tool:
Additionally, it implements a built-in HTML generator, which would take both Java and ZIP.EXE out of the picture, making installation of Oracle's E1 Page Generator easier and speeding up the overall generation process.
Please note that the default JDE connection is made to the Enterprise (i.e.: not WEB) Server and that the Port you need to provide there is the port defined in the JDE.INI on that server (i.e.: not 80, it's usually in the 60xx range).
OS: MS Windows - Any Version/Edition
CPU: Any Intel or AMD CPU
JDE Releases: Any Release with E1 Pages support
Client Machine Software Requirements: none - for designing pages; future direct E1 Pages deployment functionality will require a pre-existing functional JDE Fat/Development Client installation (including any necessary DB connectivity clients)
Client Machine Hardware Requirements: no special requirements

Initial release is free.

The commercial version download will automatically start a free trial for 30 days. The full license can be purchased using the interface and the instructions provided by the tool itself. The License is device- & user-bound, for multiple devices and/or users you will need to acquire multiple licenses. You will need to have a direct internet connection every time you are running this tool.