OLE Converter
Easy OLE attachment conversion
Old JDE OLE attachments are hard to read, a lot bigger and prone to corruption and are not supported by modern browsers, so going forward would typically require converting them.
Customer quotes:

"Thanks for this wonderful product! Worked like a charm. This worked out much better than the alternative plan."


"I just wanted to let you know that I was able to complete the file migration successfully.
Out of over 152,000 attachments only 42 files failed. File storage requirements were reduced to less than 50GB from well over 200GB.
We could not have hoped for a better outcome.
Thanks!"


"Dear Everest Software,

We've completed our JDE Upgrade from 9.1 to 9.2 which included a goal of no longer being dependent upon Internet Explorer 11 / ActiveX.
We've been held back in the past from eliminating our dependency on ActiveX due primarily to the existence of a large number of "OLE" attachments in JDE - ~280,000.
We've tried for years to get some movement out of Oracle to provide some means of converting these documents but they have nothing and are doing nothing about it.

We were happy to find out that ESI, who we already have solutions from (easy SSO / Load Balancing), provided a tool that gave us a path away from "ActiveX hell".
ESI's quick response to a few issues we found as well as their willingness to make minor changes we requested was outstanding.

We converted over 280,000 OLE documents back to their original formats with a loss of only a relatively small number of old documents that were corrupt and unconvertable. Not bad for 20 years of document attachments over who knows how many versions of software.

With other changes we've made we are now "browser agnostic" and happy to be there.

You Guys are the greatest!
Larry Jones
Wagstaff IT"
Current version: 2.2
Product Brief
More Details
System Requirements
Licensing
Yes, this software can convert your OLE attachments into original documents very easily: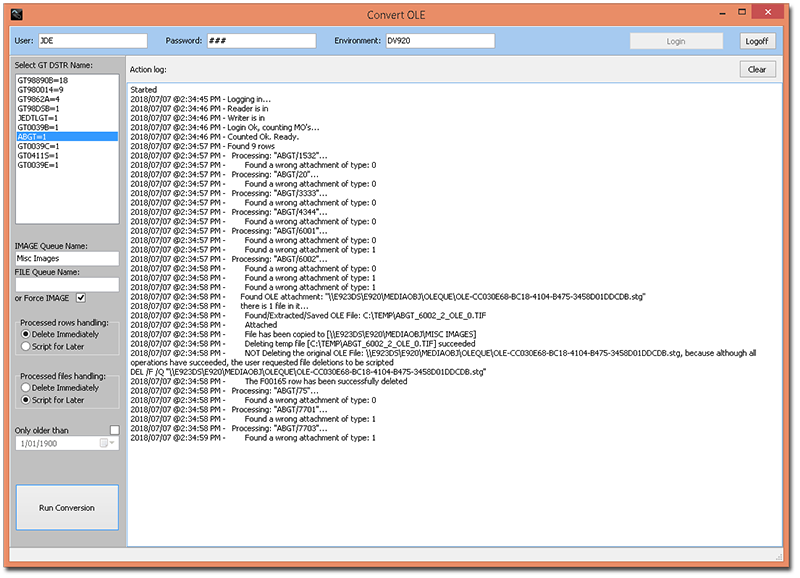 This software was originally designed as a Media Object Attachment management interface for JD Edwards® EnterpriseOne®, but because OLE attachment conversion is now the most commonly used function, we are phasing out any additional functionality, effectively making it into a dedicated OLE conversion solution.


OS: MS Windows (x32 or x64)
CPU: Intel or AMD (x32 or x64)
System Type: Physical or Virtual
JDE Releases: E900, E910, E920
JDE Tools Releases (Unicode): TR891 onwards
JDE Backend Hardware Platforms: hardware-independent - all platforms supported by JDE are supported
JDE Backend Database Platforms: DB-independent - all platforms supported by JDE are supported
Client requirements: this solution uses JDE "C" API's and so it requires a local installation of JDE Fat/Development Client

This solution is licensed Per Computer.


Related products:
For MO Attachments:
Convert RTF Text Attachments to HTML -
RTF2HTML
Make MO Attachments more accessible to users -
MO Viewer++
Print MO Attachments after JDE jobs, or separately, and/or combine them into PDF files -
EverMOPrint
For JDE interfaces:
World-fastest REST interface -
EveREST2JDE