Version Upgrade Studio
Intelligently upgrade or copy Custom JDE Versions.
Fast and easy to use, this tool allows migrating Versions across JDE releases, while ensuring the integrity of the target Versions by intelligently re-mapping all values to the new structures.
This is effectively the only way the Custom Versions of Standard Programs can be Upgraded in a single go.
Current version: 1.0
Product Brief
More Details
System Requirements
Licensing & Setup
Upgrading Custom Versions has always been problematic, because every upgrade process in existence brings across old values without matching them to the new structures. Consequently, the upgraded Versions would commonly have to be scrapped and re-created, especially Custom Versions of Standard Programs.
In some instances, when the customer has a no-mods policy, these Custom Versions may be the only thing that needs to be Upgraded, yet despite the percieved simplicity of the process, it would not work and the resultant copied Versions will either need to be manually reviewed and corrected one by one, or scrapped and re-created.
From the process scheduling point of view, it will also allow multiple people to upgrade different groups of Versions in parallel and independently of each other and of the overall upgrade schedule, potentially significantly reducing the overall upgrade time.
This easy and fast tool finally provides a way to make this type of Upgrade work from the first go, saving a lot of time and effort on subsequent manual review of the upgraded Versions: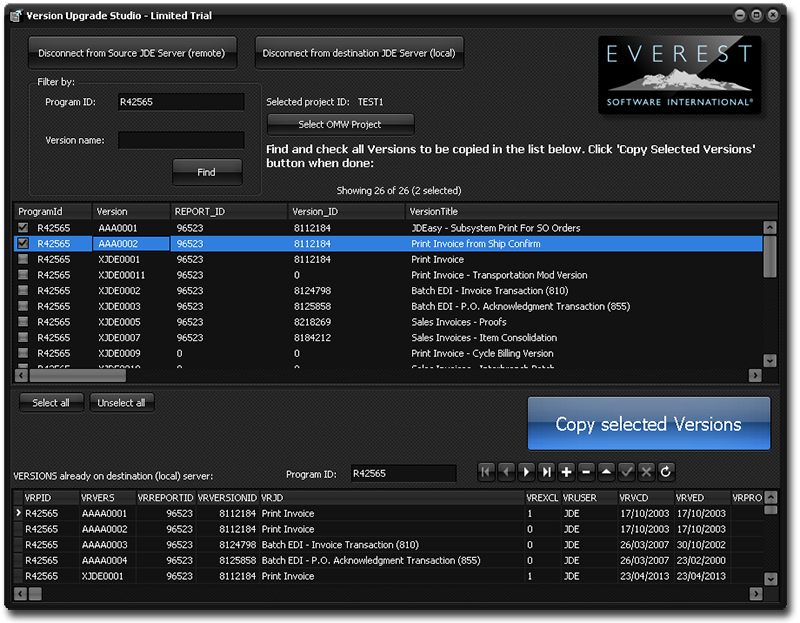 This tool will require a local JDE Fat/Development Client installation for the target system. It will connect to the source system remotely via XML - the source system may need adjustments to the JDE.INI settings on the Enterprise Server for this to work.

For Versions of Table Conversions and any Versions with ER Overrides, this may not work (i.e.: ER overrides will not come across). These will need to be managed separately.

The tool will try to auto-match the PO values to the new PO DSTR and if there are any mismatches, it will prompt the user for manual mapping - once per Template. The user will be able to provide new default values for any new DSTR elements, so this will likely require some input from the relevant application users/managers, or in fact the entire process can be performed by these users.

This process can be executed at any time during the Upgrade, because it's not linked to the standard Upgrade processes, like the Spec Merge. And each group of users/managers can be Upgrading their own Versions in parallel.


OS: MS Windows (x32 or x64) 2003 and up
CPU: Intel or AMD (x32 or x64)
JDE Releases: XE (B7333) and up
JDE Backend Hardware Platforms: hardware-independent - all platforms supported by JDE are supported
JDE Backend Database Platforms: DB-independent - all platforms supported by JDE are supported
Client Machine Software Requirements: JDE Fat/Development Client
Client Machine Hardware Requirements: functional networking, including Internet access

Version Upgrade Studio is licensed Per User & Per Computer. So if you need to run it on different machines, each would require a separate License.

On the first run, the tool will automatically start a time- & speed-limited free trial and after some time it would start prompting the user for licensing. The software can be paid for over the WEB with a credit card, using PayPal (you should not need to have an account to use it), or you can e-mail us for additional options (i.e.: for an Australian Tax Invoice).


Related products:
For working with JDE reports:
Automatically print and/or email selected reports -
AUTOPRINT
For Upgrades:
The ultimate Upgrade Toolset -
Boomerang Upgrade Suite