Server Maestro
Automate server operations with reusable scripts
Server Manager is a great default management tool shipped with JDE, which allows controlling and monitoring all JDE servers, but it's rather laborious to operate and for long series of manual steps can be error-prone. This solution provides a super-layer above JDE SM to make operations quicker and easier, and very importantly, to allow executing series of steps as a single reusable script that can be run with a single click.
Current version: 1.0
Product Brief
More Details
System Requirements
Licensing
Every day we can see CNC spending endless mouse clicks on Server Manager pages, stopping and then starting dozens of servers in some order. If you have more than a server or two and you need to stop, wait and start them back in order and probably a few times a day, this really becomes quite a laborious chore. And rather prone to manual mistakes too.
This solution is an awesome way to automate such operations, so entire swathes of systems can be stopped and started with a single click, at will, as often as needed.
The same tool can be used to monitor server status and do other things, potentially, subject to demand. We will add such extra features in the future.
This solution greatly simplifies and improves admin experience and eliminates manual errors.
A screenshot:
×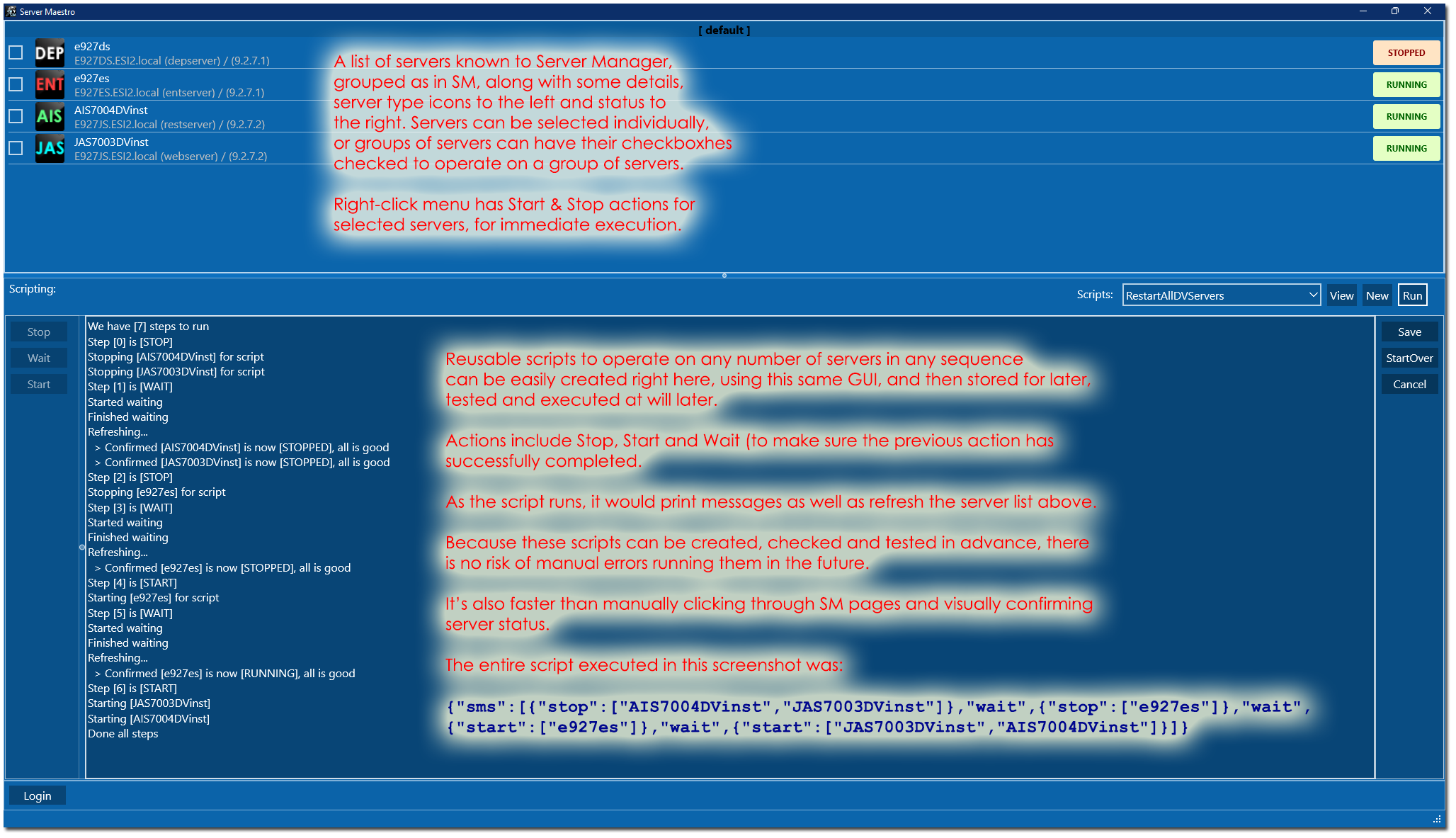 A short demo:
And an introductory presentation:
ServerMaestroLarge.pdf
This new powerful tool runs as a standalone executable. It can be copied to and executed from any machine. Windows executables are available immediately, please ask us if you would like a Mac or Linux build.

Nothing could be easier.

OS: MS Windows (x32 or x64) (other platforms can be supported on request)
OS Versions: 2008+
OS Editions: Workstation or Server, excluding Home Edition
CPU: Intel or AMD (x32 or x64)
System Type: Physical or Virtual
JDE Releases: Server Manager-enabled, with recent Tools Releases

There are two License types available for this solution:

1️⃣ Per Named Computer / Server / VM
2️⃣ Enterprise / Domain - Unlimited Users and/or Computers within the same Windows Domain