RTF2HTML
Convert JDE TEXT Media Objects easily
Internet Explorer's days are over and JDE drops support for OLE and RTF, HTML conversion is inevitable, but the standard process is lacking
Current version: 1.0
Product Brief
More Details
System Requirements
Licensing
Standard JDE conversion process cannot correctly convert most non-English text, text with any "special characters" (including XML or HTML tags), nor any embedded images.
This solution can and does. 1.5 million lines of code in this application will ensure that the conversion is flawless.
❗ 🆕 👉
FREE
- to help you find out if you have any existing RTF attachments in your system with embedded images, we have released a new "Count RTFs With Images x64" (with direct DB connectivity) tool, which can be requested from the
Download
section of this website.
❗ 🆕 👉
NOTE:
this tool has an additional version to simply extract Text attachments to files, with or without conversion to RTF, HTML or TXT. You can request this specific version via email. Because the resulting set of extracted text files is readily searchable, it is very usable for any site. For instance, you can set up a process to periodically extract all Text attachments into a shared folder in plain TXT and then allow select users access to this folder, so they can very easily search it for specific keywords, across all Text Attachments in the system.
Multiple connection options, flexible data selection, advanced processing capabilities that would preserve practically everything intact: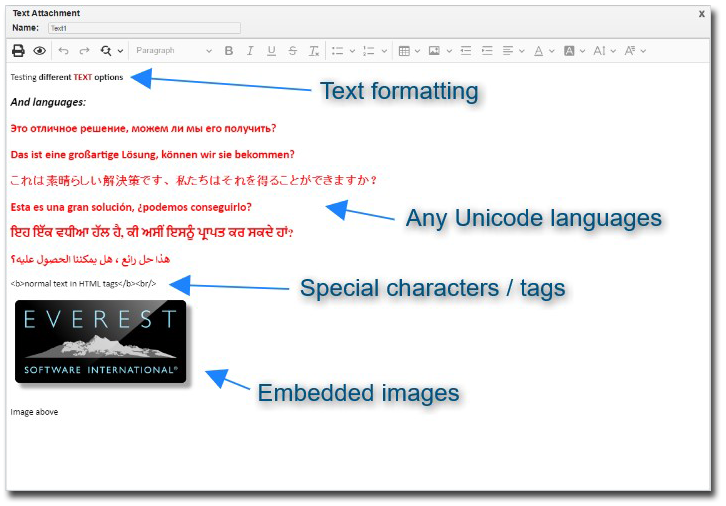 Incidentally, if your requirement is to mass-convert your Image attachments to PDF or even HTML (essentially Text), or PDF to Text/HTML, or Text/HTML or RTF to PDF, or something similar, please contact us as well.
RTF2HTML is our new powerful tool to easily, rapidly and correctly convert JD Edwards® OneWorld/EnterpriseOne® Text Media Object Attachments from the old RTF format to HTML.
As an extra added benefit, the tool would create SQL scripts to delete F00165 records with no data / empty RTF attachments, which will make this table smaller, cleaner and faster.
Its output is compatible with both the latest JDE Releases and the latest Browsers: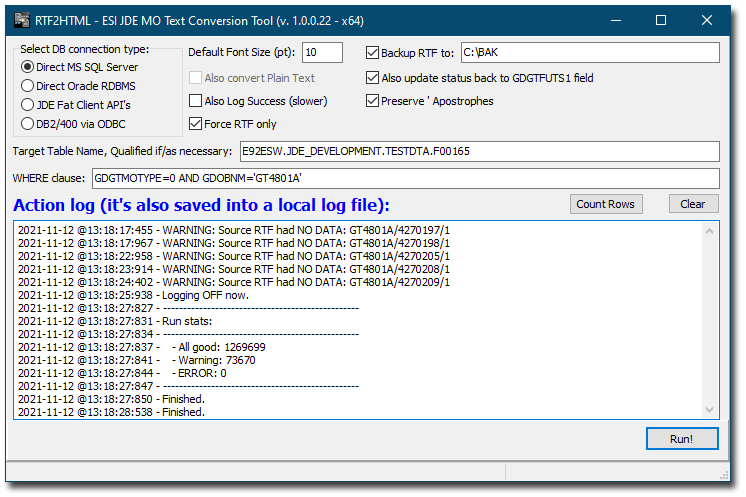 Nothing could be easier. The simplicity of a single-button interface, combined with the flexibility of SQL data selections, multiple connectivity, performance and reporting options and most importantly the exquisitely advanced built-in technology for seamless error-free data conversion.
OS: MS Windows (x32 or x64)
OS Versions: 2008+
OS Editions: Workstation or Server, excluding Home Edition
CPU: Intel or AMD (x32 or x64)
System Type: Physical or Virtual
JDE Releases: E900+
JDE Backend Hardware Platforms: hardware-independent - all platforms supported by JDE are supported
JDE Backend Database Platforms: DB-independent - all platforms supported by JDE are supported
Client Machine Software Requirements: requires pre-existing functional JDE Fat Client installation (including any necessary DB connectivity clients), or just the DB connectivity clients for MS SQL Server and Oracle databases
Client Machine Hardware Requirements: has no requirements above JDE Fat Client MTR's, but will benefit from additional capacity, especially RAM
This software is licensed Per Named Computer.

Related products:
For JDE Upgrades:
Helps converting old OLE MO Attachments -
OLE Converter
For Combining and Printing MO Attachments on the Servers:
Print MO Attachments after JDE jobs, or separately -
EverMOPrint
For User Productivity:
Make MO Attachments more accessible to users -
MO Viewer++